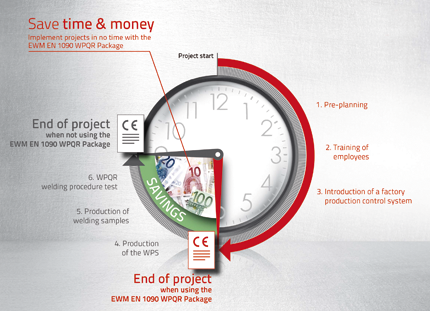 /// The individual stages involved in the certification process
Welding process qualification is achieved in the following steps
A. Preparing a pWPS (preliminary Welding Procedure Specification):
For each weld seam, a WPS is required – meaning a written welding procedure specification. These instructions for the welder contain e.g. information for compiling parts, about preheating, about the welding procedure, about rework etc. For this, a preliminary WPS is created initially, a so-called pWPS.
B. Weld sample creation:
Based on the information provided in the preliminary pWPS, a weld sample is created in the presence of a tester.
C. Welding procedure test WPQR (Welding Procedure Qualification Record):
The weld sample created based on the pWPS is tested both non-destructively and by means of destructive testing methods. If this welding procedure test is successful, a WPQR certificate is issued as evidence of the suitability of the pWPS. The pWPS then becomes a qualified WPS. Based on a WPQR certificate, further WPS can be created. A WPQR certificate is issued to the person who has had the welding procedure test carried out. Consequently, every welding company would need to have its own WPQR certificates drawn up for the various seam types using different welding procedure tests in order to ensure qualified welding procedure specifications are available for reference. This procedure, however, is very time-consuming and costly. But it is also quite simple: Because, according to EN 1090, WPQR certificates for standard welding procedures and the associated welding procedure specifications can be transferred to other users.
This saves time and money!