New apprenticeship

Welcome to EWM!
Discover how we can help you launch your professional career as part of a team of apprentices working together in study groups to solve tasks and overcome problems. We support you right from the outset to help promote your talent. During an EWM apprenticeship you'll benefit not only from a large team and a varied job, but also experienced co-workers.
Show us your potential and apply to us
---
Team players wanted!
Apprenticeship area
---
Careers. Together, right from the start
Your future – our journey together
What do you want to become?
Are you still not quite sure where your future will take you, or perhaps you already have a concrete idea of your future career path? As a diverse company, EWM has many opportunities in store for you. Even our range of apprenticeships in different fields alone sets us apart – from interesting media and marketing-related jobs through logistics to production. At EWM, not only does support-based training await you, but also the opportunity to further develop yourself and begin a career.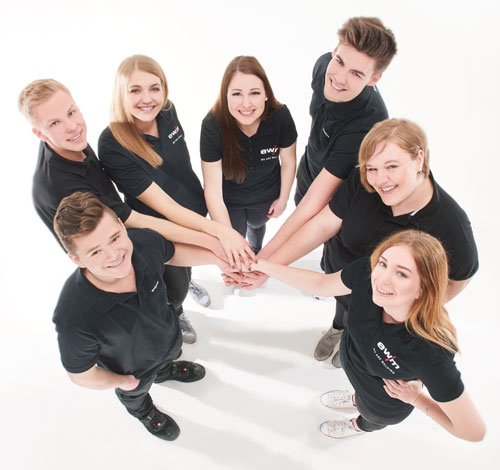 ---
We look forward to receiving your application
There are two ways of applying to us:
Either by email to: bewerbung@ewm-group.com
or you can send your application to us by post:
EWM AG
z.Hd. Personalabteilung
Dr. Günter-Henle-Strasse 8
56271 Mündersbach, Germany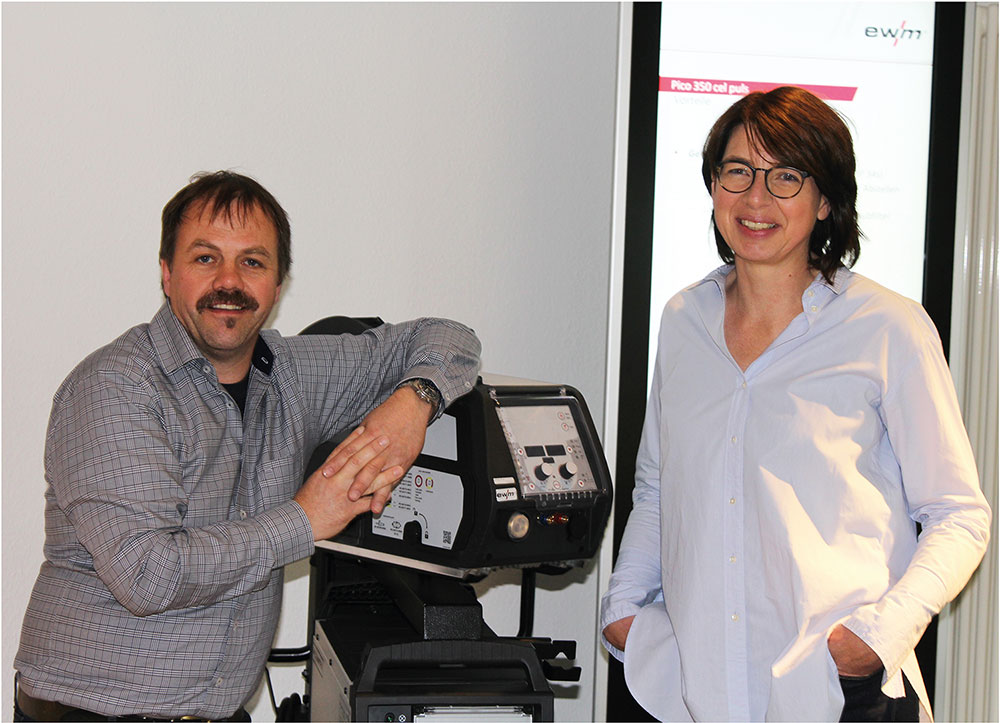 ---
Visit us at Ausbildung.de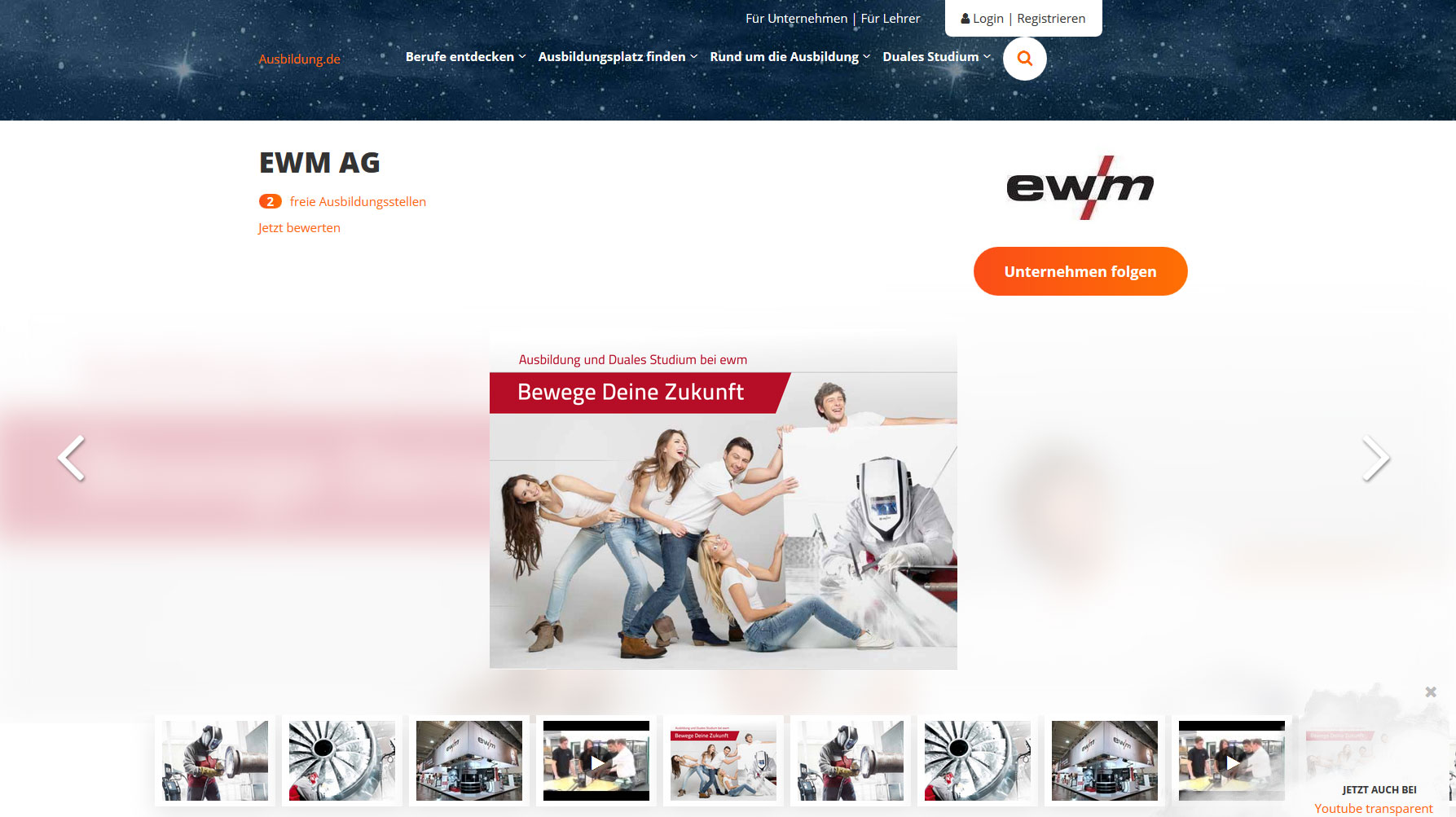 ---
Q&A – our apprentices answer your questions
What happens when I arrive?
Upon arrival you'll be warmly greeted by Ms Feierabend and Mr Meyer in Plant I. They will accompany you during the first two ice-breaker days, where you'll not only get to learn more about the company but will also meet your future colleagues and fellow apprentices.
Will there be an introductory session with all of the other apprentices at the start?
As mentioned above, there will be three ice-breaker days where you'll get to familiarise yourself with the company. The first two days will include training on "workplace risks". You'll also get to visit the three plants and your departments. A group barbecue will be held on these days for you to also meet the apprentices who have already joined us. We'll spend an afternoon together getting to know each other.
What does EWM require from its apprentices?
For us, it's important that you are keen to learn new things. You should also be committed in the workplace. The tasks you will carry out should be enjoyable and you should be able to work well as part of a team.
Will I get to see all three plants?
During your first two days at EWM you will be given a tour of the three EWM plants. You'll be introduced to the different departments and learn about their scope of activities.
Will I get to meet other apprentices who are already at the company?
Yes, at the group barbecue you'll meet all of the apprentices who are currently with us. Sometimes, former apprentices who have already completed their apprenticeships come and visit.
Will there be someone assigned to me or is there someone at the company who I can go to for assistance?
Each new apprentice will be assigned a mentor at the start of their apprenticeship who will answer any questions you may have. This mentor will be your guide not only during the first few days, but also throughout your entire apprenticeship. Should you have any questions about training, interim or final exams, just ask your mentor. They are there to support you throughout your journey.
What should I bring with me for the first few days?
For the first few days you won't need to bring anything except enthusiasm, anticipation and the safety shoes you should already have ordered. All other information will be given to you on your first day.
What qualifications do EWM apprentices need to have?
It's important that you are keen to learn new things. You should also be able to work as part of a team since teamwork is the basis of many of our tasks. Furthermore, school leaving qualifications are naturally also important, depending on your role. You will find all information above under the descriptions of the different apprenticeships.
How can I further myself professionally? Will EWM help me to do this?
Further training is provided by EWM, for example in the form of seminars. You can also undertake a degree programme after your apprenticeship upon discussion with the HR department.
Does EWM provide training sessions?
Weekly training sessions take place in the individual departments. Mr Meyer oversees the training sessions for industrial trainees for each apprenticeship year. Ms Feierabend oversees the training sessions for commercial trainees. Apprenticeships for marketing communications clerks and digital and print media designers receive training from their instructors.
Can I undertake an internship at EWM?
It's possible to undertake an internship in various departments at EWM. Simply send us your application with a cover letter, CV and your last reference.
---
Download section