We develop your future
WHETHER SINGLE UNITS OR LARGE BATCHES, TRADE OR INDUSTRY, SMEs OR CORPORATIONS – EWM HAS THE PERFECT WELDING AUTOMATION SOLUTION FOR YOU AND YOUR COMPANY, WHATEVER THE TASK.
To take the stress out of future-proofing...
✔
...We provide you with a complete automation solution for your tasks –
perfectly tailored to your needs and company.

✔
Welding power sources for MIG/MAG, TIG and plasma welding with related accessories
such as wire feeders and welding torches etc.

✔
Robot cells and robot systems as part of our modular systems

✔
Retrofitting, rotary tables, circumferential and longitudinal welding machines

✔
All services
EWM GmbH provides complete solutions for automated welding production
Due to rising wage costs and the increasing pressure from competition internationally, more and more companies are having to streamline their production processes – something that also applies to welding. To allow users from industry, production, education and trade to manufacture at a faster rate but also to a consistently high standard of quality, EWM GmbH offers a complete welding service specifically customised to individual needs. This includes collaborating robots, as well as turnkey and compact robot cells and robot systems with partly or fully automatic offline programming. As a welding technology manufacturer, we take advantage of the current possibilities of Industry 4.0. This way, both small and large series can be produced flexibly, reliably and economically.
One of the key requirements in welding production is consistently high and reproducible product quality – both for welding large series and small series, and even right down to just single batches. As a complete provider of arc welding technology, we are focusing more and more on software solutions that create offline robotic welding programmes, based around 3D CAD design data. Thanks to its modular concept, the software can be expanded as required, from partly automated through to fully automated offline welding robot programming. This way, users can make production much more effective, even for small series, and they can reduce online programming time by up to 95%. As a result, the time used previously for teaching and programming can be used as production time – the robot doesn't stop.
A huge range of solutions
EWM GmbH offers a particularly large range of complete solutions for automation in welding production. The intelligent software for offline robot programming is used both in compact robot cells and customised complete systems from the modular EWM complete solutions. Our compact and standardised robot cells are delivered pre-assembled and ready-to-weld, and come with a base plate and casing. They can also be transported using a forklift or lorry and quickly commissioned. Furthermore, we provide an extensive range of individual, turnkey complete systems from our modular solutions. With our collaborating robots, we have designed an intuitive, controllable entry-level solution for welding automation with no programming knowledge necessary. Co-bots can be programmed quickly, flexibly and simply. Users are therefore best prepared for welding simple tasks with a consistently high standard of quality, even with small batches as is often required in manufacturing, for example.
Three letters for the highest quality − EWM
Get the best results with a complete EWM system: EWM products are renowned for their high quality.
Our power sources have an extremely high duty cycle, and therefore service life – guaranteed!

Our wire feeders, intermediate hose packages and welding torches are high-quality
and optimally coordinated.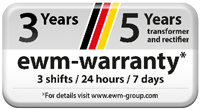 Contact us!
** Information on data protection and the cookie policies can also be found in the data privacy statement on our website
Would you like to know more, or do you have a
particular enquiry? Contact us!