Welding 4.0 – ewm Xnet welding management system
A step towards more efficient and resource-saving welding technology
Improved productivity, lower costs and ensured quality – three advantages for you.
ewm Xnet produces measurable benefits throughout the entire value chain of your welding company. The future-oriented welding management system organises production, planning, quality management, welding coordination personnel and management. In this way, it considerably helps to improve economy, quality and documentation.
ewm Xnet future-proofs metalworking companies.
Intelligent and productivity-boosting networking of man and machine for an automatic flow of data within the production chain: Industry 4.0 is now becoming established in welding production thanks to the new and innovative ewm Xnet Welding 4.0 welding management system.
Quality assurance and improvement – improved quality is the greatest asset

Documentation of welding parameters and welders of every run for long-term records of weld quality
WPS linked to component, on-time monitoring of parameters directly on the welding machine and clear assignment of required welder qualifications all reduce errors
Mandatory specifications from component management and WPS manager ensure that the correct parameters are always set
Xbutton ensures expert welding and supports welding coordination personnel by identifying welder qualifications

Increased productivity

Increased productivity – complete more work in the same time

Longer arc times per shift improve efficiency
Paperless transfer of all relevant data and WPS directly to the workplace reduce non-productive time
Preset welding parameters reduce the number of error corrections
Fewer unnecessary downtimes thanks to prompt, consumption-oriented maintenance notes, for e.g. consumables

Cost reduction – increased profits with the same turnover

Consumption values for power, gas and welding consumables are recorded to recognise potential savings
Prompt maintenance instructions instead of early warnings lead to a minimised consumption of wear parts
Transparent processes ensure constructive controlling with the option of precise final costing

Cost reduction
Needs-based depending on requirements
The ewm Xnet system modules and components
Customised for the requirements of specialist production – EWM's Welding 4.0 welding management system also adheres to this philosophy of needs-based products. The three interrelated ewm Xnet modules adjust to any individual requirements depending on the type and size of the company. The update capability typical of EWM products is also integrated: Additional modules can be retrofitted easily at any time. ewm Xnet provides measurable benefits from the first module onwards no matter which version you decide to purchase.
The ewm Xnet modules
✔ Platform-independent – browser-based for all end devices ✔ Comprehensively extendable – room for improvement ✔ LAN/WiFi control connection – wireless network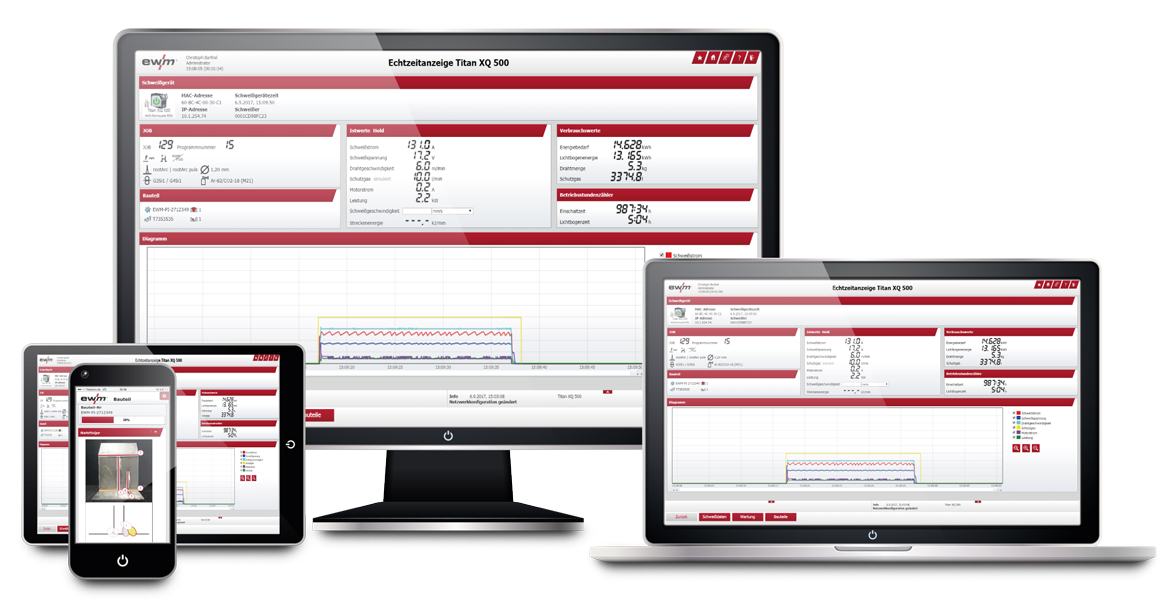 ewm Xnet Software Basis Set

Software product for quality assurance in welding production

ewm Xnet Basis Set consisting of USB dongle with serial number, installation file and software usage licence

Range of functions

Machines/machine status visible via the network
Monitoring of welding parameters in real time
Recording of welding data
Welding machine maintenance
Information scanning as QR and/or barcode
Costs and consumption per QR and/or barcode
Analysis of the welding efficiency
Calculation of the consumption for one or more machines
Display of the most important information on the dashboard

5 reasons for the ewm Xnet Basis Set | EWM (Video with subtitles)

ewm Xnet WPQ-X Manager

Easy, quick creation and management of a database of WPQR and pWPS/WPS in the network

Direct creation of a pWPS/WPS from the welding data recorded with ewm Xnet
Creation and management of a database for welders and welder qualifications in the network
Reminder in case of due confirmation/extension of welder qualification
ewm Xnet Basis Set is required in order to use the WPQ-X Manager




ewm Xnet Upgrade 1: WPQ-X Manager (Video with subtitles)

ewm Xnet component management

Creation of components, e.g. with image, drawing or welding sequence

Allocation of WPS, monitoring profile, length for each weld seam in the welding sequence
Identification of components before welding using QR and/or bar code (in conjunction with a QR and bar code scanner)
Transferring of the welding parameters to the welding machine (in component mode and in conjunction with WPQ-X Manager)
Allocation of recorded welding data, consumption, costs for each scanned component



ewm Xnet Upgrade 2: Component management (Video with subtitles)

ewm Xnet Xbutton

EWM Xbutton set consisting of

USB dongle
Software usage licence
Programming box incl. USB cable
10 pcs. of authentication keys (Xbuttons) + 1 programming key

Range of functions without integration in an ewm Xnet system

Identification of the welder at the welding machine
Managing permissions for the welder at the welding machine
Qualification of the welder on the key

Additional range of functions with integration in an ewm Xnet system

Allocating the welder to a component or a weld seam
Checking the validity of the welder qualification while logging in at the machine

EWM Xbutton – the software key for welding (Video with subtitles)

In three easy steps to Welding 4.0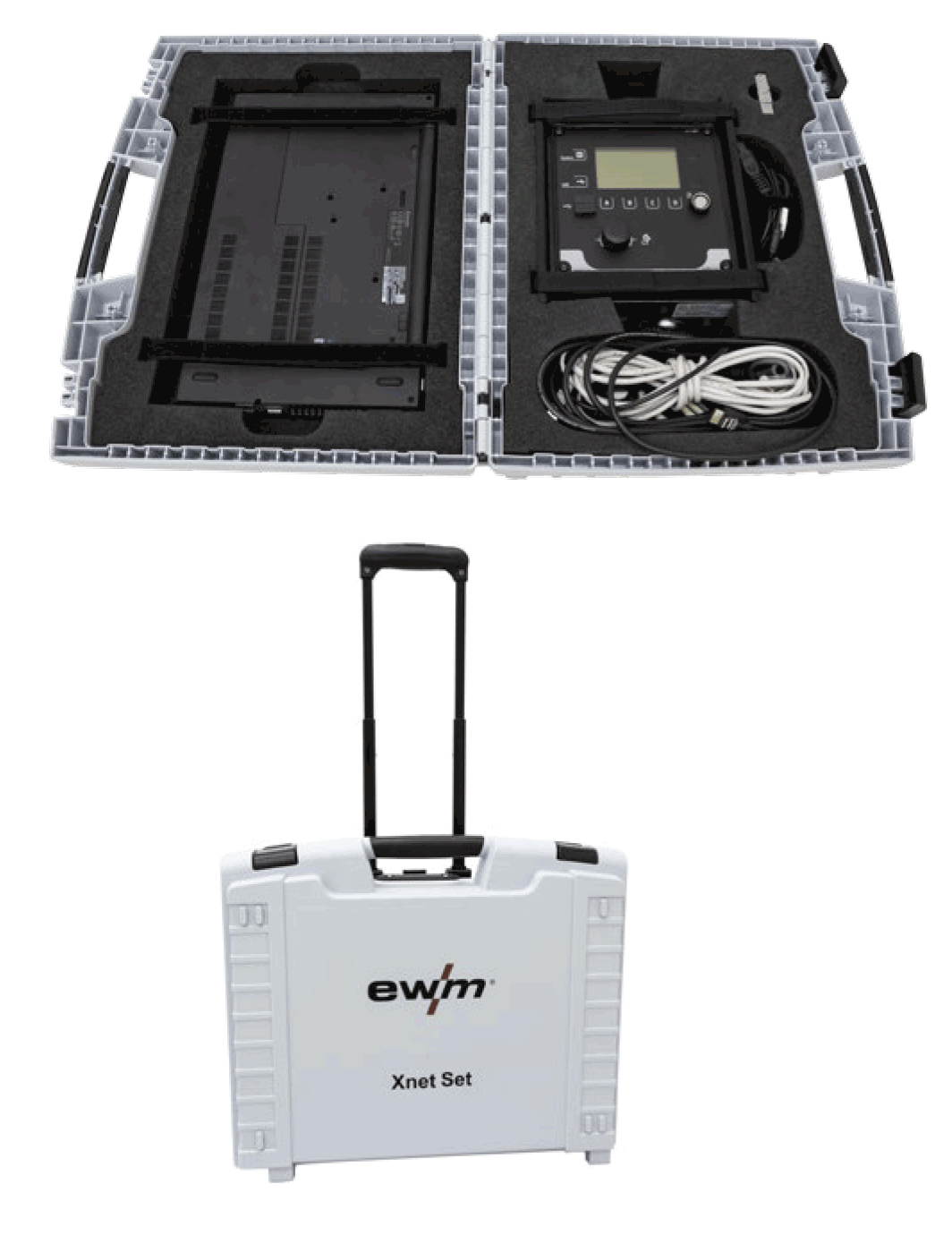 YOUR BENEFITS
The ewm Xnet Plug and Play Set facilitates smooth and simple commissioning and usage. It is the perfect solution for rapid, order-based documentation of welding parameters with a power source. With the ewm Xnet Basis Set already installed, welding data can be recorded and an efficiency analysis generated. With the pre-configured PC and gateway, the system can be connected in just a few steps via plug and play. The prerequisite is a welding machine with a 7-pole interface without hard-coded ewm Xnet components.
CONTENTS
Laptop PC with pre-installed ewm Xnet software (ewm Xnet Basis Set)
USB dongle with software usage licence, 1 machine usage licence, ewm Xnet Basis Set
ewm Xnet LAN gateway
Cables (7-pole, LAN network)
Plastic case with Trolly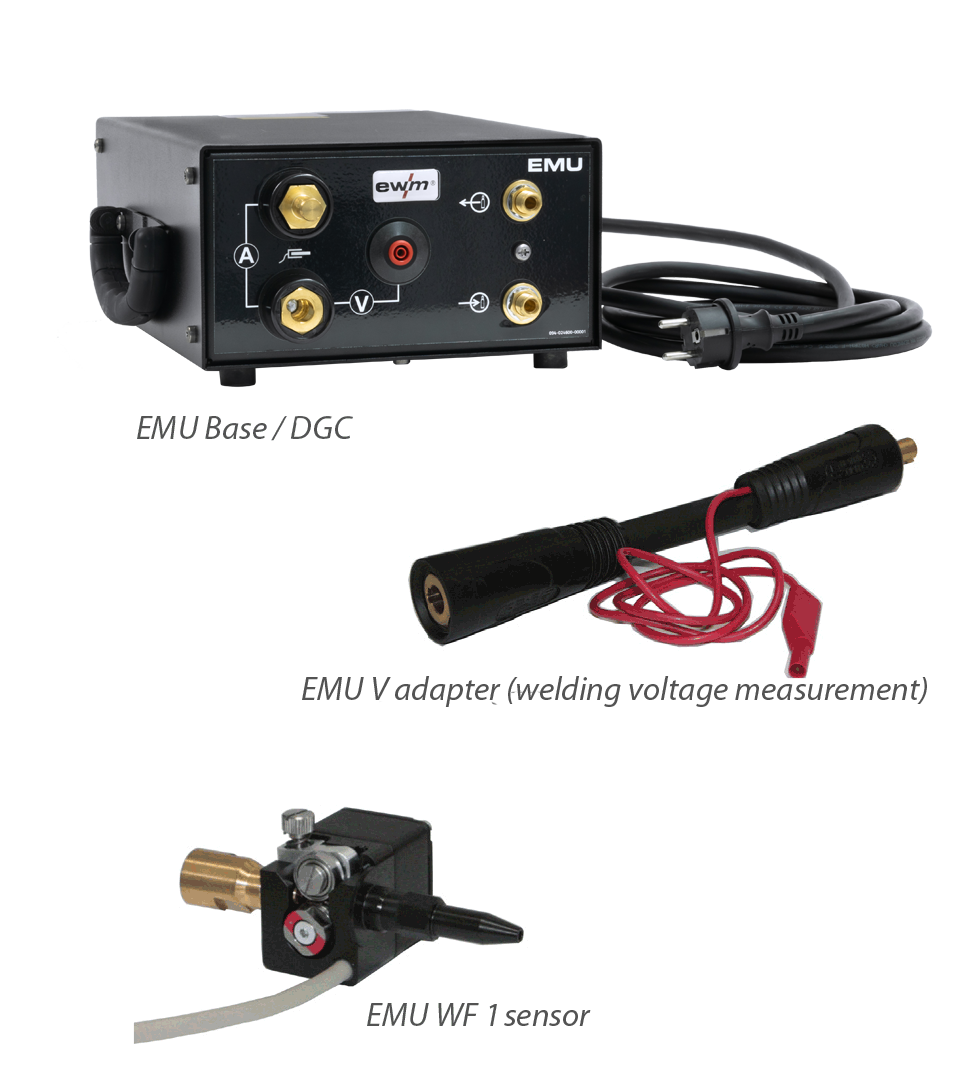 YOUR BENEFITS
With the ewm Xnet Universal logger, welding machines from all manufacturers can be connected to an ewm Xnet gateway and the ewm Xnet software.
This means you can use almost all ewm Xnet functions, such as:

Real-time display, recording and documentation of the welding parameters
Consumption calculation
Welding machine maintenance
Bar code scanning
WPQ Manager
Welder management

Two different options are available for recording the wire feed speed of the connected welding machine:

Mathematical calculation of the wire feed speed based on the measured welding current without an additional EMU WF 1 sensor wire sensor
Metrological recording of the wire feed speed using the EMU WF 1 sensor wire sensor
Overview of functions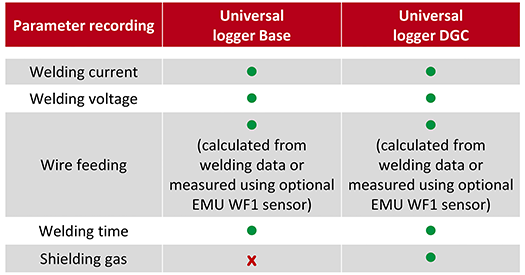 Fields of application
Suitable for the following machines:

MIG/MAG welding machines
TIG welding machines
Plasma welding machines
MMA/electrode welding machines
Submerged arc welding machines (on request)

For applications in:

Welding production
Training centres
Manual/mechanised/automated welding
Service centres
Welding machine leasing
Data recording during welding procedure tests and welder examinations
References – satisfied customers
ewm Xnet documents for download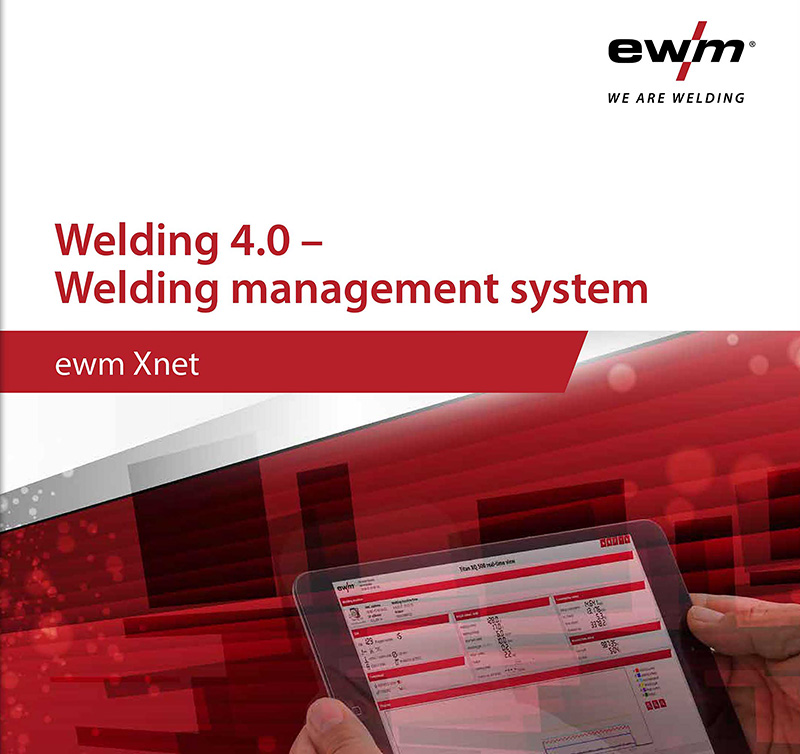 Welding 4.0 – ewm Xnet welding management system brochure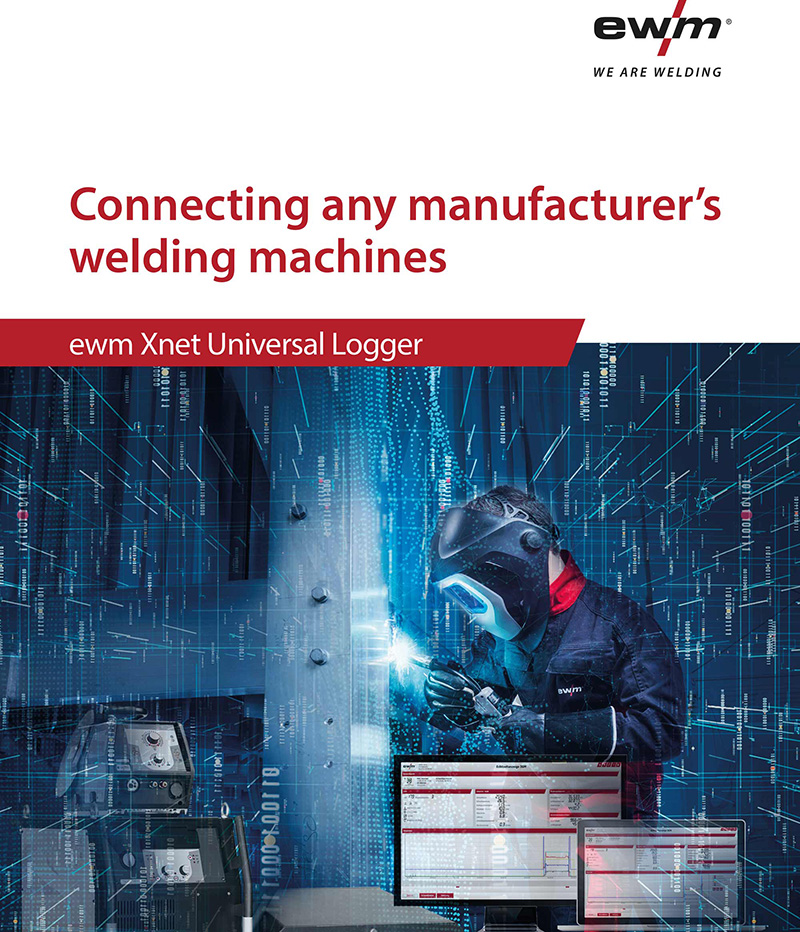 ewm Xnet Universal logger brochure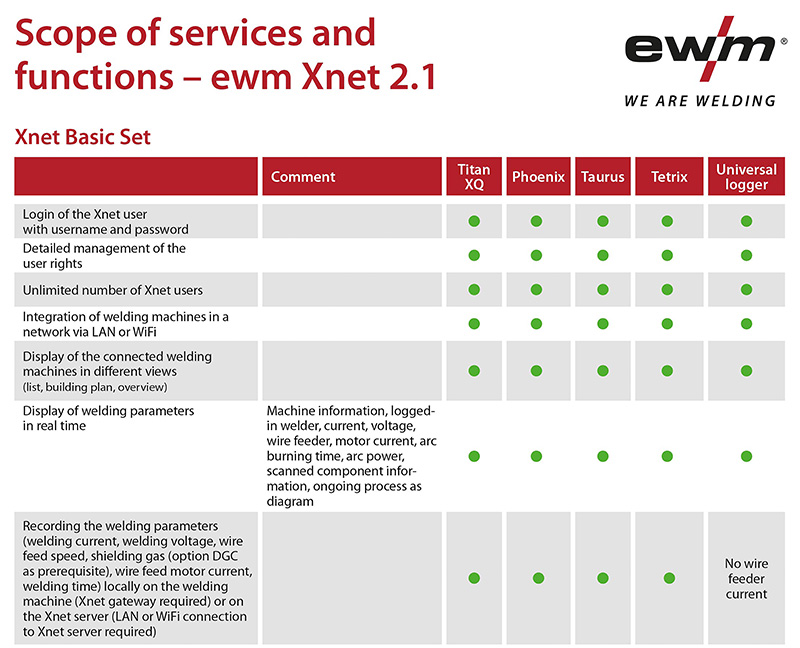 ewm Xnet scope of services and functions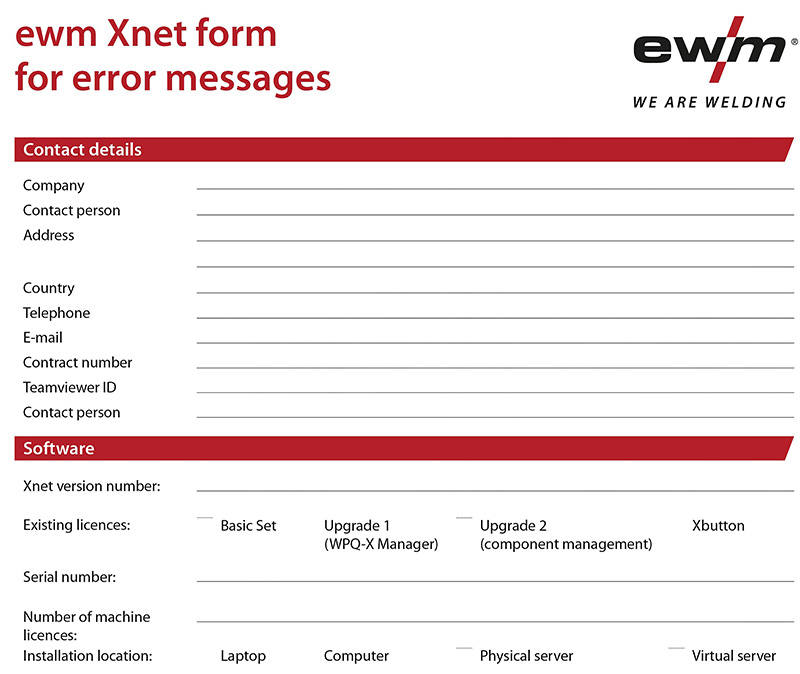 ewm Xnet form for error messages