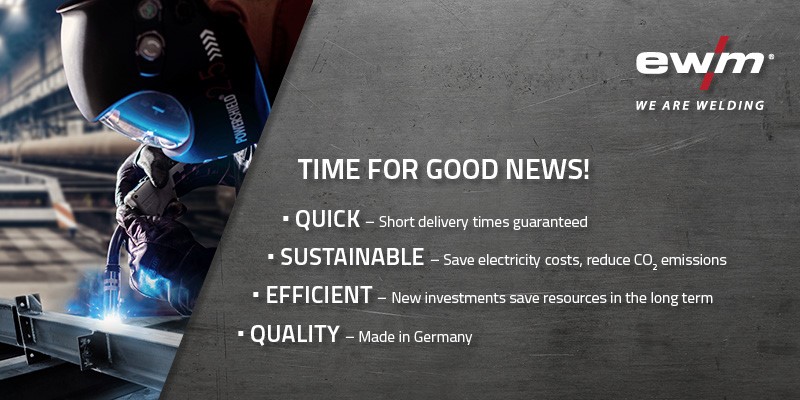 Who we are – what we stand for
Whenever metal is inseparably connected anywhere in the world, the probability that we are involved is rather high. We are one of the global market leaders in the field of welding technology. Our aim is to be the first and the best when it comes to technology, quality and customer benefit.
Our experience
Perfect welding needs so much more than just a welding machine, a welding torch and a few welding accessories. For the past 60 years, EWM GmbH has been engaged not only in the production of welding machines and the required accessories, but also to a greater extent in researching and developing innovative welding processes and components.
Our development
These developments also include several EWM welding processes such as forceArc and coldArc, with or without pulse, or rootArc - the perfect solution for root welding. Coordinated systems give perfect results. From welding machines to welding torches and welding consumables, everything has one aim: To turn welding into an experience. It does not matter if you are welding aluminium or another material, or whether you are welding using a plasma, MMA or MIG/MAG process: An EWM welding machine is always the right choice!
Our range
Our comprehensive range of high-quality welding machines spans from MIG/MAG welding machines, to TIG and microplasma, to portable MMA welding machines. Even in the age of digitisation. The modularly designed quality management software ewm Xnet can network all of your welding machines, and therefore receive all welding data in real time during the welding process. You are immediately alerted of incorrect welding machine settings, and can avoid production losses and increase the effectiveness of the whole welding process. The whole process is supported by a suitable welding torch and welding accessories.
EWM GmbH – We are welding
Do not settle for anything less from your welding machines, welding torches, welding wire and in all other areas of welding – try our complete range of machines and services for yourself.
References – satisfied customers
SBS Kft Hungary

A brief look at contract manufacturer SBS Kft Hungary.

Dražice

Hot water storage tanks and water heaters (boilers)

BRS Motorsport

Formula Student: students build racing car

Finsterle GmbH

Overcoming the challenges of automated welding with fine-grained steels

Vogelsang GmbH & Co. KG

The user-friendly way to process all kinds of material thicknesses

MST Parts Group

MST/Hi-Spec Manufacturing manufactures the largest dredger buckets...

IGEFA WEINBRENNER Energy Solutions GmbH

Skilled worker shortages, full order books and high quality standards
We stand for satisfaction
"Thanks to EWM and forceArc puls® , Mesa can cut its working hours by 57 %, and save considerable costs."

"We weld the root in one single operation. We are now up to four times faster than before."

"There are many and more affordable welding machines on the market, but none that are better."

Savings of up to 60 % thanks to the use of EWM forceArc®