For us, quality means the never-ending pursuit of perfection.
As a full-service provider, we assume responsibility for the entire welding process.
Our quality promise means that every machine, every hose package, every welding torch, and anything that bears the EWM logo will have the highest possible quality and the longest possible service life.
We are confident enough in our quality to provide a warranty promise. 3 years on welding machines, 5 years on transformers and rectifiers, with no limitations on the number of operating hours. Refer to our warranty terms for details.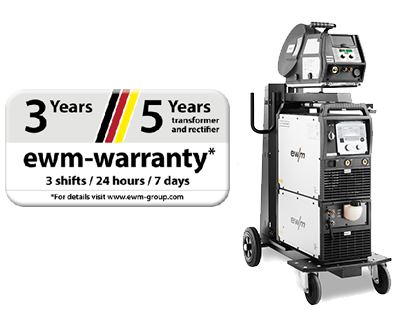 High vertical integration
Highly qualified engineers develop our technology and processes at our technology centre in Mündersbach, Germany. All critical components in our machines are developed and manufactured in-house. This gives us complete control over the production process.
Components and materials of the highest-quality
Our products use robust housings, powerful cooling, and generally oversized components that are always operated below their operational limits, resulting in machines with a long service life and high power reserves.
Quality management system
Our quality management system helps ensure consistently high quality. It relies on cutting-edge testing equipment, 100 % quality control, and highly trained employees who accept responsibility for our customers. We are certified according to DIN EN ISO 9001.
Quality – Made in Germany
Everything we do is based on the concept of sustainability. As a company and individuals, we assume responsibility: for our decisions, for our products and services – in all dealings with our customers, the environment, and society.
We even have a name for this: BlueEvolution®