Welding machines by EWM - You deserve them
Welding with EWM means: State-of-the-art welding technology, optimal usability and first-class results.
EWM welding machines offer a technological advantage in all welding procedures. This is characterised by a high level of efficiency, conservation of resources, and sustainability when welding. Regardless of the welding process – whether you're looking for MIG/MAG electrodes, plasma, or TIG welding machines – EWM's range of high-quality, user-friendly welding technology products leaves nothing to be desired.
So that you can easily choose the correct model from the wide range of high-performance welding machines, we have set up our new EWM product configurator. The ideal welding machine is like a great love: You need to find it first.
MIG/MAG welding machines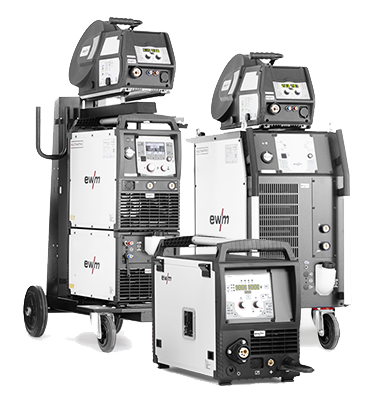 MIG/MAG welding machines are true all-rounders when it comes to MIG/MAG welding. From non-alloyed and low-alloy steels, CrNi steels and non-ferrous metals, to MIG/MAG pulse or standard welding, and from one-off production to complex production lines, a large number of applications make these welding machines essential in many areas.
EWM also offers the right MIG/MAG welding machine for each of these applications. These range from the portable welding machines in the Picomig range, to the mobile alpha Q, Phoenix, and Taurus machines. Or would you prefer a welding machine which was always flexible and could be easily adapted to your current requirements? That's not a problem with our modules. In just a few easy steps, you can equip your MIG/MAG welding machine with a trolley or a cooling unit, for maximum production flexibility. And that's not all: EWM provides all innovations such as forceArc, coldArc or rootArc free of charge. No surcharges, no hidden costs
Use our product configurator to configure your custom MIG/MAG welding machine:
TIG welding machines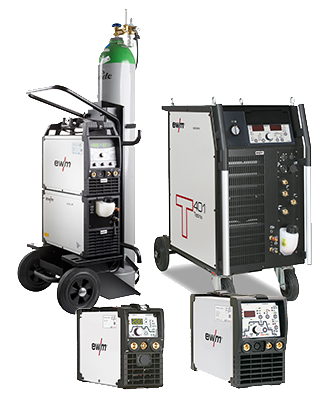 TIG welding machines are mainly used for welding clean and safe seams in forced positions and root passes. With our DC TIG welding machines, you can work with almost any material, from alloyed steel to copper, while EWM's AC/DC welding machines are the ideal partner for welding aluminium.
EWM has also considered this in terms of TIG welding machines: With our tigSpeed dynamic wire feed system for hot and cold wire welding, you can obtain top quality welding results at various welding speeds, as well as during MIG/MAG welding. Various accessories, e.g. trolleys and retrofitted cooling units, complete our range of TIG welding machines, and leave no requirement unfulfilled. Protect your TIG welding machine with our product configurator
MMA welding machines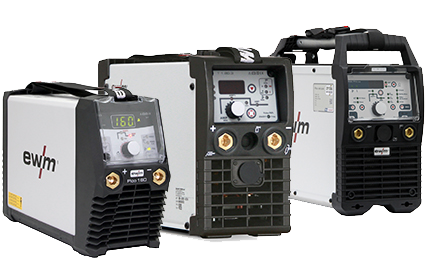 MMA welding machines are usually used for dirty materials. At EWM, we take that into consideration. Each of our MMA welding machines is characterised by its excellent robustness and a longer than average service life. Not least, the high mains voltage tolerance and power reserves make our MMA welding machines the perfect assistant on the construction or assembly site, and can easily be connected to the generator or the long mains lead for operation.
We would not be EWM if we were satisfied with just that. Anyone who has ever experienced residual magnetism in a component will know how nerve-racking this can be. That is why we offer both degaussing machines and our Pico 350 cel puls pws dgs MMA welding machine with an integrated degaussing function. Degauss (link to degaussing page) and unweld immediately.
Plasma welding machines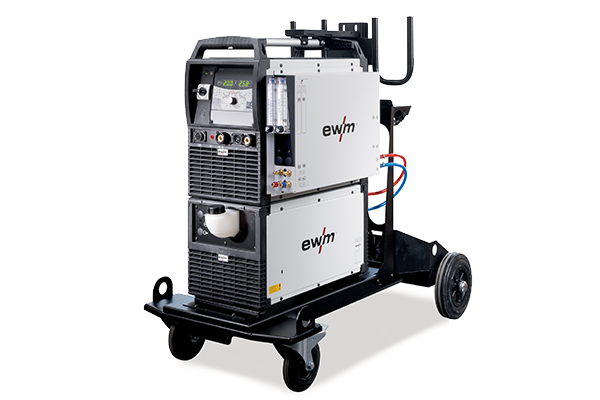 Plasma welding is one of the newest welding procedures. It is a method of tungsten gas shielded arc welding.
It involves a concentrated electric arc with a high energy density. The electric arc is created by a water cooled copper nozzle with narrow bore holes, through which the electric arc passes. It has an almost cylindrical shape, and diverges by just a few degrees. This results in a high energy density. The electric arc burns on the needle-like tungsten electrode in the plasma nozzle. It is cleaned using plasma gas.
Indeed, the gas emitted through the small borehole can not provide long-range protection during welding. Shielding gas is therefore supplied through a second nozzle.
The plasma welding procedure offers ignition reliability, and directionally stable electric arcs with low heat input.