Warranty terms and conditions
EWM AG guarantees that its products are faultless with regard to material and manufacture. Should the product prove to be defective in this respect within the warranty period, you have the right to free repair or for your product to be replaced with an appropriate alternative, subject to our discretion. This warranty shall take effect from the date of invoice. EWM reserves the right to alter the guarantee conditions at any time with effect for the future.
Basis of the warranty
For the full warranty to apply, the product must be operated in accordance with EWM operating instructions and in compliance with the respectively applicable statutory regulations and guidelines only. In addition, the product must be serviced and inspected once a year by an EWM authorised dealer. The product must also be registered at the EWM homepage (see "Information on the Warranty, Maintenance and Testing").
Any guarantee repairs may only be carried out by an authorised EWM partner – otherwise the guarantee will be invalidated.
Expenses for packaging and transport to the place of delivery are borne by the client and are not covered by the warranty.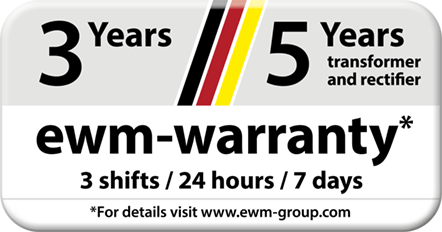 Warranty periods
5-year warranty for
Main transformer
Output choke
Secondary rectifiers
3-year warranty for
Power sources *)
Wire feed mechanisms *)
Cooling units *)
Trolleys *)
2-year warranty for
EWM Powershield (welding helmet)
Coolant pumps
1-year warranty for:
Automation and mechanisation components
EWM branded products
EWM torches
Used equipment
Intermediate hose packages
Remote controls
Inverter power units
6-month warranty for
Spare parts supplied separately (such as circuit boards, ignition units, etc.)
*) For the full 3/5 year EWM warranty to apply, the product has to be registered through the EWM website!
Manufacturer's/supplier's warranty
on all purchased parts used by EWM but manufactured by a third party (e.g. motors, pumps, fans, welding torches etc.)
(other products on request)
Warranty coverage
In the first, second and third year, the warranty covers the free replacement of parts and working time – in the fourth and fifth year, the material required for the repairs is covered.
Warranty restrictions
The warranty excludes non-reproducible software errors and parts subject to mechanical ageing or natural wear (e.g. wire feed mechanisms, wire feed rolls, replacement and wearing parts of wire feeds, workpiece leads, electrode holders, connection and extension cables, mains and control cables, plugs, replacement torches and wearing parts of torches, solenoid valves, wheels, coolant, etc.).
Warranty exclusion
Warranty claims are invalid:
If the EWM products have not been operated using original EWM accessories (e.g. intermediate hose package, remote control, connection cable, coolant, etc.) and/or original EWM replacement and wearing parts.
If work is carried out by persons not authorised by EWM.
If the products are overloaded according to the power and technical data specified in the operating instructions.
In the event of inappropriate use.
In the event of inappropriate alterations and/or repairs.
If the products have been partly or completely disassembled.
For products that are damaged due to accidents, misuse, improper operation, incorrect installation, interference or insufficient power supply, carelessness, use of force, disregard of the specifications and operating instructions, inadequate maintenance (see chapter "Maintenance and Testing"), exterior influences, natural disasters or personal accidents.
Warranty claims
When making a claim under the guarantee, please contact EWM or an authorised EWM partner only.
To make a warranty claim, the original invoice stating the serial number of the machine must be submitted. For power sources, wire feeders and cooling units, the warranty certificate is also required.
On request, the product must be sent to us immediately at the risk and expense of the purchaser. Replaced products become our property. The warranty period is not extended as a result of replacement or repair. The customer has no claim to loan or replacement products whilst repairs are being performed or replacements are being provided.
General
These terms shall apply without affecting the customer's legal rights to a warranty and are subject to our General Terms and Conditions of Business and our warranty regulations. Subsidiary agreements must be confirmed by EWM in writing.